My husband met the puppy for the first time Friday morning. They've seemed to hit it off pretty well.
I had made plans to go to the Home Show with others, and I knew it would be a great big experience for the new pup. It also had the potential to be too big an experience, so I packed an entire day's worth of kibble and an extra bully stick, more on that in a moment.
I picked up the vest and gear, and I put on my coat, and Mindy launched from my husband's lap and ran to join me. Remember how I said I wanted most of all to condition that outings were fun? I think we're on target.
And then we headed out to the State Fairgrounds for a socialization adventure.
Priorities
I really need to emphasize this: I was 100% prepared to bail if the puppy needed it. If her eyes popped or if she started shutting down, I'd already decided that I would go to a quiet corner or even the car, where I would sit with the puppy and read a book until the others had finished. Over-facing in the name of socialization does more harm than good!
I had several barometers of puppy condition, and one was that she was offering me lots of willing behaviors. I didn't lure or physically position* anything all day. It's not that luring is necessarily wrong, it's just that it doesn't require nearly as much from the dog. A dog can follow a lure with only a bit of its brain, while the rest is browsing the inner internet or worrying about that scary thing over there. So if a puppy is cogitating on offering behaviors, she's in a more functional state and is much less likely to be worrying about stuff. (Not luring wasn't a goal in itself, just worked out that way because she was consistently focused and offering.)
I cannot in good conscience describe our socialization without emphasizing that we are working at the puppy's own pace, and that pace could vary greatly in other puppies. Yes, I had things I wanted to do at the Home Show, but by taking the puppy I made her my first priority. Yep, I got less done than I would have without her, but that didn't matter. If she'd needed to slow down or leave, I could not have done anything else. See also "When you should NOT socialize the dog."
(*Well, okay, I did leash-block a couple of dives toward mulch piles and spilled popcorn, because seriously, mulch piles and spilled popcorn. But I called her back to me, clicked and treated for coming voluntarily away, and then carried her past the rest, because we aren't prepared yet to walk calmly past all distractions.)
The Home Show
This is two buildings full of LOTS of people and a ton of exhibits and vendors. They build a whole new house inside each year, and there are water gardens and patios and statues and did I mention LOTS of people.
It was a great training ground, actually. She got tons of clicks for staying next to my leg as we moved very slowly through lines, she got lots of practice meeting friendly people with her paws on the floor, she got lots and lots of practice walking with me past lots of distractions, including friendly people calling her over to them. She got clicks for chilling out and camping while I spoke with other people, either curious about her or selling stuff I wanted, and a few times she got to chew a bully stick while waiting because I didn't want her to get frustrated or bored.
Most people were quite well-mannered. I heard several mothers tell their children that they couldn't go bother the puppy who was working (and I often called, "Thanks, Mom!" in return). Many people asked if they could meet or pet, and I usually gave permission. (The few times I said no, the puppy had just had a number of greetings and probably wasn't looking for more. I don't want them to be annoying, just casual.) And I told amazing numbers of people about service dog etiquette and about clicker training. At two points I was practically giving a mini-class, with a dozen people ringed about us while I explained clicker training and that yes, any puppy could learn it.
There's always that one guy, though, right? In this case, he had a few cohorts. One woman asked to meet the puppy, was told she could pet Mindy on the back, and then as Mindy sat politely for greeting, she reached down to grab the puppy's muzzle and shook it. (Mindy immediately got lots of treats from me.) Another guy just dove unexpectedly onto the puppy as we were walking and starting rough-housing with her. I called her and clicked and generously treated the response, saying to him, "You really need to ask before you interact with the dog, please." His response was, "It's okay, I have labs at home." Nope, sorry, that does not make it okay. Not even a little bit.
A number of people tried to attract (distract!) Mindy to them as we were walking. I suspect most of them didn't know that this was a bad idea, as many people commented on her vest without ever reading it. (Or misreading it. One of my favorite overheard comments of the day was a man explaining to his friends that the tiny black lab puppy was a "guard dog in training.") But I simply clicked and treated for staying with me and ignoring the calls, and that worked well nearly all the time.
Here's video of some of our walks. I'm working hard to click only nose-forward, so there are some good walking moments that I didn't click. (It's all right if she looks at me after the click.) Near the end you can see two big distractions we struggled with, a pull toward a really interesting woman and then toward a really awesomely smelly trash can. She came away from both when called, though the trash can was a bit stickier. 🙂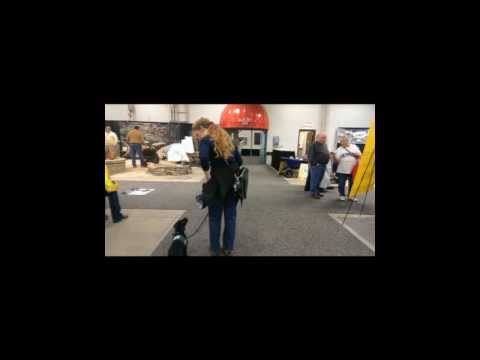 Mindy was a trooper. But it was a lot of work, both physically and mentally, and she did get tired. So I did what anyone with a human infant would have done, I let her take a nap while we went on. (Don't worry! Mindy wasn't invited onto the furniture, which isn't allowed for GDB puppies. I was holding her when she fell asleep, and then I got comfortable myself.)
Overall, I consider the day a success. It helped a lot that I had a good team with me who didn't mind when I vanished to take the puppy out for a toilet break or was slow to walk because I was clicking and treating or matching a puppy's short-legged pace.
I'm glad we got the jump start and made outings fun, because they'll slow down now. We have a snow-and-ice storm predicted for this coming week, so Mindy will probably have to practice relaxing in front of a warm crackling fire. Tough life. But in the meantime, she has the emotional connection I want, and foundations are important.
She will have some guests visiting this weekend, though, and like the baddest Bad Cop ever, I've printed out 3 Puppy Rules to post on the door as people enter (pet only when paws are on floor, no feeding human food, no dropping human food for puppy to eat off the floor) since our house rules about dogs and food have had to change. Habit shifts are hard!
Breed Differences
A follow-up to our first bath experience…. I left the puppy closed in the bathroom with a bully stick to chew while I showered, so she couldn't get into trouble elsewhere. Seemed logical.
I was halfway through washing my hair when I suddenly felt something. I looked down, and there was a puppy by my feet. "Whacha doin' in here? Hey, it's raining! Huh. Okay, I guess it's not too interesting in here after all, bye!"
/eyeroll/ Labradors.